DATE: Saturday 29 July, 1995
PLACE: Montchanin to Switzerland
WEATHER: Hot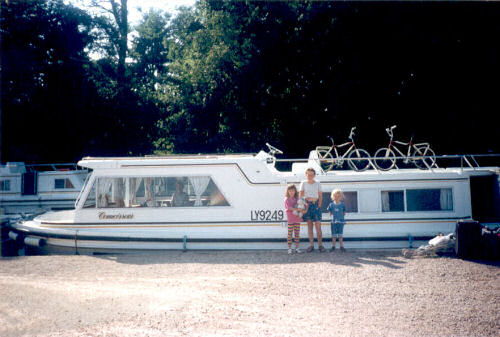 REMARKS: A relatively early start has us breakfasting on leftovers and remnants before the taxi arrives at 0830 to take Dave & I (and Sam) to Branges (approx 45km away) to collect the cars and return.
Once loaded, farewells made, and arrangements made for our visit to Reading (next Sunday after 1700) we're off. We very nearly retrace our steps. The aim is to head for Interlaken in Switzerland. We finally settle for a small village Hotel in Chatel St Denis. Desiree is still unwell, Charlotte vomits on the doorstep, and Sarah in the middle of the night - we're in danger of turning into a bunch of crocks!!
Switzerland is fascinating: the mountains are spectacular upthrusts of raw rock with patchy coatings of conifers; the housing changes immediately the border is crossed -still tall, but better maintained and with window-boxes of geraniums everywhere; real 'Heidi '-like two-storey houses with ramps for the cows to get inside in winter; lots of stacks of firewood drying (very tidily); the land intensively used.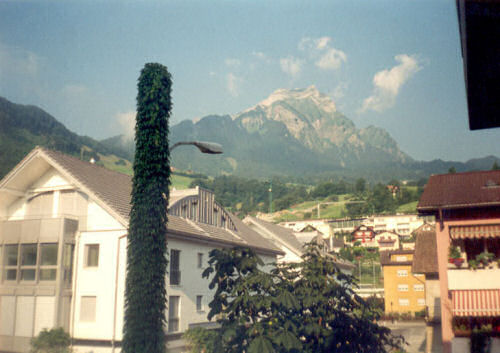 We drive from Lens to Nyon on the shores of Lac Lehman (Geneva) and turn to Lausanne and Montreux.
We hadn't expected vineyards, but they are everywhere, indeed in places virtually terraced on steep slopes almost to the lake shore.
The roads are well maintained but, being dual carriageways, and we're not on the expressway so progress is slow.
Clearly the Swiss like flags, banners and heraldry as all the towns are draped. There is even a NZ flag at the terminus of the Pilatus railway (which was built in 1889).
Frequent passenger train services - but no evidence of freight trains.